The Role of the Instructional Designer
In this increasingly digital age, the need for educators to understand technology has become paramount to keeping up with the pace of modern education. With the advent of touch pads, mobile computer labs, and customizable tech, the decision to solely stick to pen and paper could be at the detriment of students.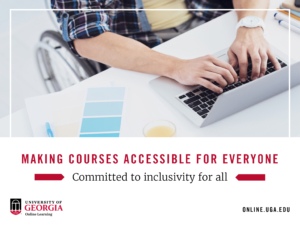 Obviously, this is especially true for an online-only learning experience such as an online master degree or graduate certificate. The goal of teaching has always been to help students learn and apply course material taught throughout the course duration. In order to reach full teaching potential with online courses the class must be optimized for an online setting. This is where instructional designers (I.D.) come into play. Instructional designers help professors create course material that is accessible for all students.
At the University of Georgia, academic units are able to utilize the expertise of an instructional designer in the process of designing, developing and maintaining courses associated with UGA online programs and courses. Instructional designers are experts in quality, accessibility and sustainable practice. An added bonus of I.D.s at the Office of Online Learning is the experience many designers have in the field of teaching. This informs their design methods of courses in order to optimize learning experiences. I.D.'s deal with all content areas and their focus shifts to frameworks of design for the courses. They collaborate with educators to create a course flow that compliments the content provided by the teacher.
The UGA Office of Online Learning offers two levels of instructional design services.
Level 1: Instructional design consultation services.
Level 2: Instructional designers dedicated to specific, high-touch projects.
Level one, instructional design consultation, provides guidance for a faculty member who plans to design and create an online course themselves. Level two, high-touch design, is used for specific projects selected collaboratively between the Office of Online Learning and the college/school where the project lives. High-touch design initiatives strive to create consistent, high-quality online courses and programs.
This collaborative approach is what creates accessible and effective course content, quizzes, and assignments that are inclusive to all subsets of students. Educators who want to learn more about the innovations in digital teaching can seek out various resources on the online teaching environment or online course design processes at UGA.